Jacob Epstein was selected by Oscar Wilde's literary executor to design a tomb for the playwright in 1908. The naked winged angel, based on 9th century Assyrian bulls that Epstein had sketched at the British Museum, reflect the artist's interest in Middle Eastern and Egyptian art, and refer, perhaps, to Wilde's poem The Sphinx.
Whilst transporting the twenty ton monument to the Père-Lachaise Cemetery from London in 1912, Epstein was ordered to pay £120 import duty to French customs who rejected the sculpture's status as a work of art. The sum amounted to the value of the stone.
Once in Paris, the monument was covered with canvas by order of Parisian officials who deemed the naked human form to be too risqué for public view. On returning to the cemetery one evening, Epstein found that the testicles had been covered with plaster by officials who took the view that they were unusually large.
The monument was placed under police guard while Epstein attempted to continue to work on it. Frustrated with the lack of progress, he managed to bribe one of the policemen on duty to look away. Eventually, much to the chagrin of Epstein, a bronze plaque similar in shape to that of a butterfly, was placed over the offending testicles.
The tomb remained under canvas for two years to protect the public from offence. Eventually, the authorities agreed to remove the covering and sanctioned the organisation of an unveiling in 1914. A few weeks after the launch, Aleister Crowley, the poet who had unveiled the monument, met Epstein in a café wearing a bronze butterfly as a necklace. He informed Epstein that his work was now on public display as he had originally intended it.
In 1961 the testicles were removed by an unknown perpetrator. Some say the cemetery manager used them as a paperweight. Their whereabouts remains a mystery.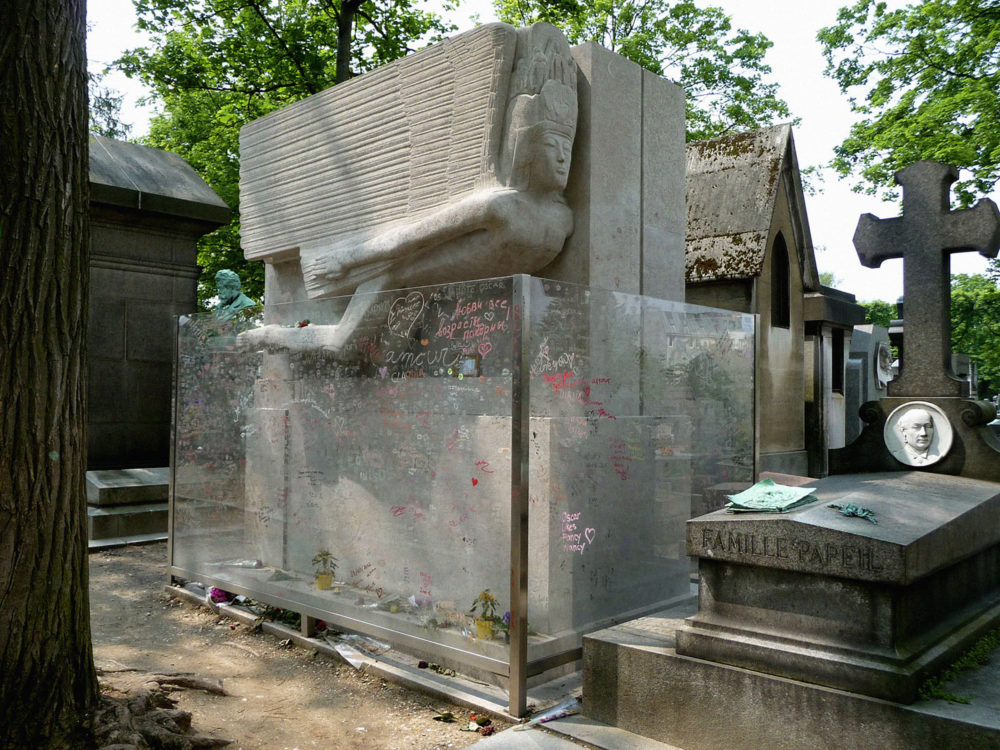 For years, visitors left notes, love letters and flowers for Wilde on and around the monument to express their admiration for his work and life. In the late 1990s an amorous fan planted a lipstick kiss on the tomb and thousands followed suit. The cemetery introduced a €9,000 fine in an attempt to deter offenders. Unperturbed, fans continued to express their love for Wilde and his work. In 2011 a glass barrier was installed around the monument to stem the effects of erosion caused by lipstick kisses.