On the night of 3 October 2018, German Reunification day, government contractors dismantled and removed Olu Oguibe's Das Fremdlinge und Flüchtlinge Monument (Monument for Strangers and Refugees). The work had been commissioned for Documenta 14, the highly respected international exhibition that takes place in Kassel, Germany every five years.
This sixteen-metre concrete obelisk was installed on Kassel's Königsplatz, an important civic site with three hundred years of the town's history embedded within it. Inscribed towards the base of the monument, in Germany's four predominant languages (German, Turkish, Arabic and English), was the biblical verse: 'I was a stranger and you took me in.' This beguiling, humble message posed a series of complex, loaded questions: is this an expression of gratitude for the hospitality that the German people have shown to strangers? How does this statement allow for the many millions of Germans who felt hostility to the 'strangers' – for whom does the artwork assume to speak? Is this a curt rebuke to the xenophobia of contemporary Germany society – a society that prides itself on its Christian, democratic values?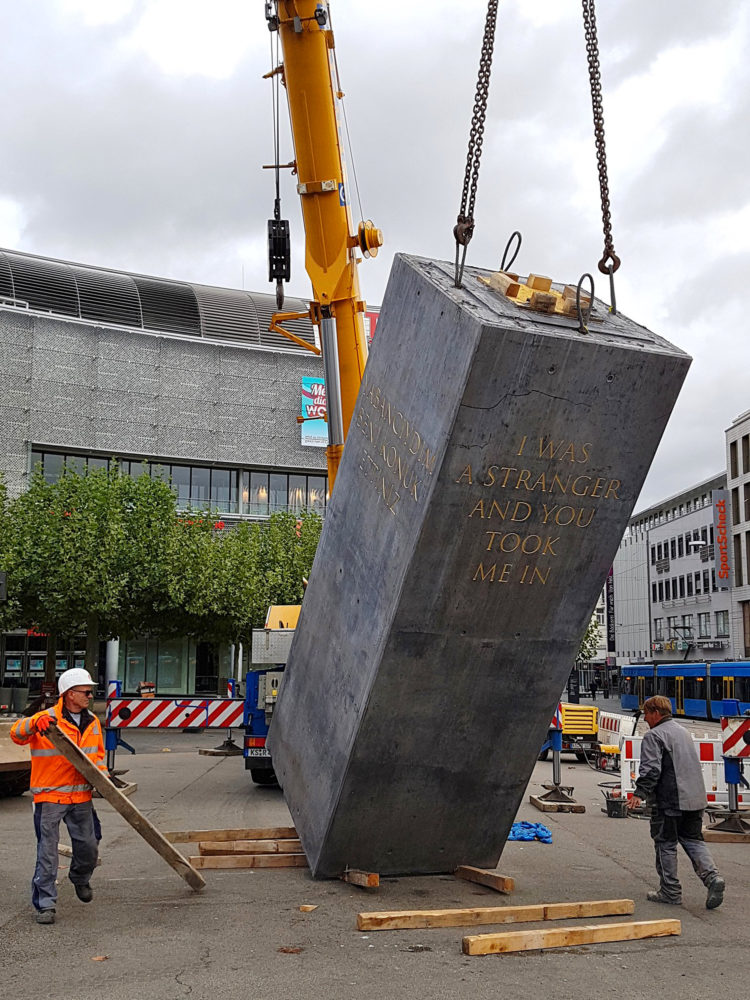 Olu Oguibe conceived of the work during the migrant crisis of 2014/15, when tens of thousands of people fled war and poverty in Syria, Afghanistan and Iraq, crossing the Mediterranean and trekking through Europe to reach Germany, France, Scandinavia and the UK. Under the leadership of Chancellor Angela Merkel, Germany welcomed 900,000 refugees; her policy was by far the most generous in Europe. Violence, aggression and discrimination against the incomers sored, and extreme right-wing parties boosted their resolve as well as their membership. The backlash significantly contributed to the loss of Parliament seats to the right-wing Alternative for Germany (AfD) party in 2017.
The monument became a meeting place for pro-democracy activists, regular citizens, Turkish, Syrian, Eritrean migrants, and tourists looking for a selfie back-drop. It was also used by right-wing extremists as a focal point for their simmering anger and resentment. When the artwork came up for discussion at a meeting of Kassel's cultural committee, an AfD city councillor said it was 'ideologically polarizing deformed art' (entstellte Kunst) – an unnerving choice of words, reminiscent of the Nazis' use of the term 'degenerate' to describe modern art (entartete Kunst). He called for people to demonstrate in front of the monument 'each time a terrorist attack was carried out by an immigrant'1
After the documenta exhibition came to a close, officials from the city of Kassel launched a  €600,000 crowdfunding campaign to purchase the monument and lobby for it to remain on Königsplatz (prompting '€600,000? Are you crazy?' graffito). However, conservative lawmakers considered the work's 'pro-refugee' message to be an endorsement of Chancellor Merkel and therefore too overtly political; they proposed that the monument be relocated on Treppenstrasse, a less publicly contentious site near the university, and where other historical documenta artworks had been installed. Oguibe was vehemently opposed to the idea and argued that its site-specific nature would render it meaningless in another location. The fundraising campaign failed to meet its target and Oguibe agreed to sell the work to the city at a discounted rate, with the stipulation that it remain on Königsplatz. He eventually conceded and in April 2019 Monument for Strangers and Refugees was moved to Treppenstrasse.