Between midnight and 4am on 27 April 1979, three Brazilian artists Hudinilson Jr, Mario Ramiro, and Rafael França, ran through the streets of São Paulo placing plastic bags over the heads of the city's public statues, fixing them in place with a cord. They orchestrated their intervention with meticulous attention to detail, documenting their actions, tipping off the press, and recording the ensuing public response.
Hudinilson, Ramiro, and França belonged to the collaborative group 3Nós3 (3We3) which proposed the occupation of city spaces through politically motivated 'interversions' and direct action. Their work constituted an open invitation to residents to reconsider the city and its history through its signifiers, delivering a form of freedom and critical agency to the streets.
Ensacamento (Covering), 1979 was the group's first and most widely known work, realised at the peak of Brazil's brutal military dictatorship that began in 1964 and continued until 1985. It was only a matter of hours before the authorities removed the traces of this act of 'vandalism', but by then the provocative aims of 3Nós3 had been realised: the statues were rendered eternally vulnerable – the memory of suffocation and the mass execution of revered leaders was forever fixed in the public imaginary.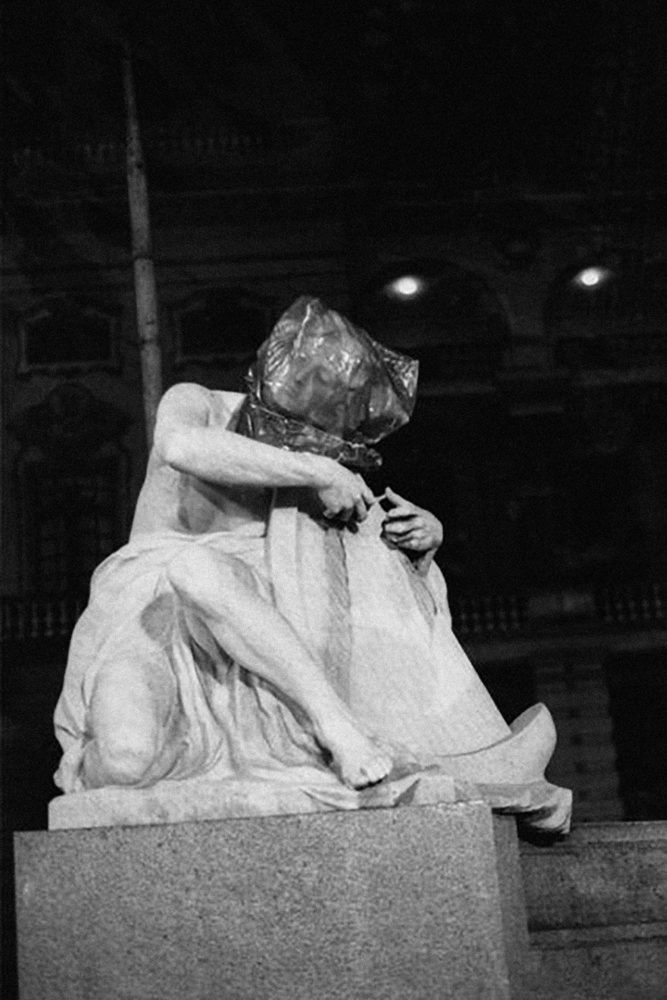 Through this erasure, the faces of historical monuments were left acephalous, ie without a head. The statues became bodies whose identities had been stripped from them, in the same way that the dictatorship stripped the identities of those political activists and trade unionists that it 'disappeared' throughout its regime.
Viewed within the context of the art practice of the most prominent member of the collective, Hudinilson Jr, Ensacamento can also be considered 'a psychogeography of desire' – the naked male body experiencing a form of erotic asphyxiation through illicit nocturnal activity.1 'Mapping desire through truncated bodies' was a continual trope in Hudinilson Jr.'s collage notebooks and infamous Xerox art projects in which he photocopied parts of his own naked body.2
3Nós3's view of the public realm encompassed the space occupied by the media – newspapers, radio and TV channels. Thus, their orchestration of the records of the action generated by the press, as well as the photographic documentation and publications produced by the collection, were positioned as an integral part of Ensacamento. Ironically, the news stories that condemned the group's iconoclastic actions were responsible for inscribing them into public archives and collective memory.