In 2000 Michael Landy won an international competition run by Artangel and The Times to produce an ambitious proposal to be realised in the UK. His work Break Down was presented at a disused C&A department store on Oxford Street in central London.
Over a fourteen-day period, all of Landy's personal belongings were systematically destroyed by a team of ten operatives using a constructed facility modelled on a material reclamation factory. Each of the 7,226 items were categorised according to type (Artworks, Clothing, Equipment, Furniture, Kitchen, Leisure, Motor Vehicle, Perishables, Reading Material and Studio Material) and placed on a roller conveyer to be pulped, granulated or smashed, ready for landfill. The process was performed against a playlist backdrop that included Joy Division's Love Will Tear Us Apart and David Bowie's Breaking Glass.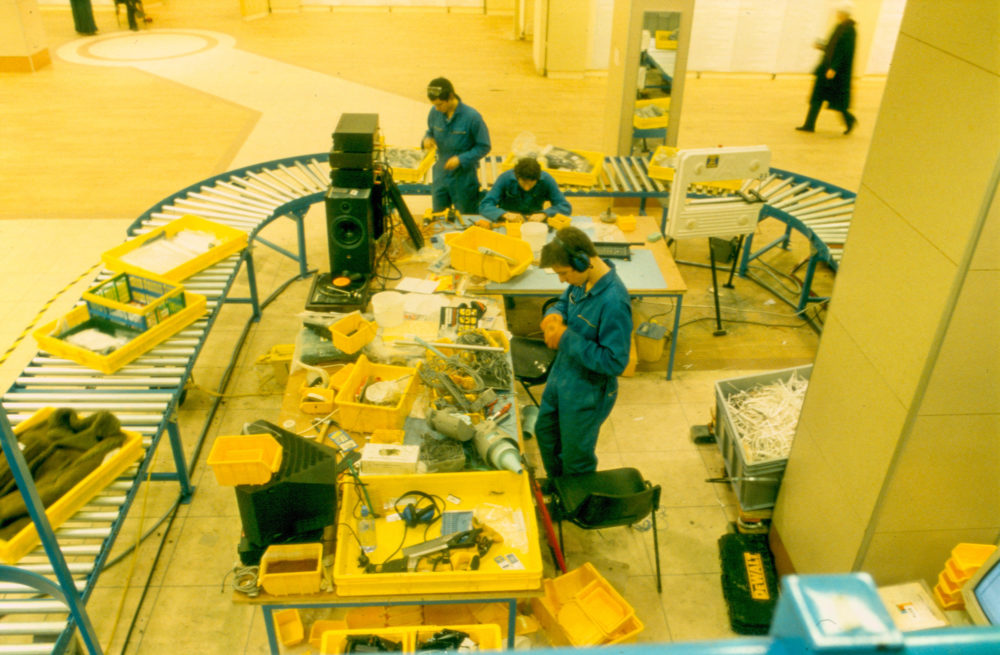 Items ranged from the mundane to the priceless: green moulded plastic frog on metal key ring… leaflet and layout plan for Alton Towers theme park… David Bowie records… money… cherry red Saab… till receipts… love letters… holy water… passport… his father's sheepskin coat. Each item was destroyed according to its material make-up; some required specialist knowledge: a Buddhist Saab expert dismantled Landy's car. As James Lingwood, Co-director of Artangel said, it wasn't a matter of 'savage destruction but a contemplative, methodical process'.1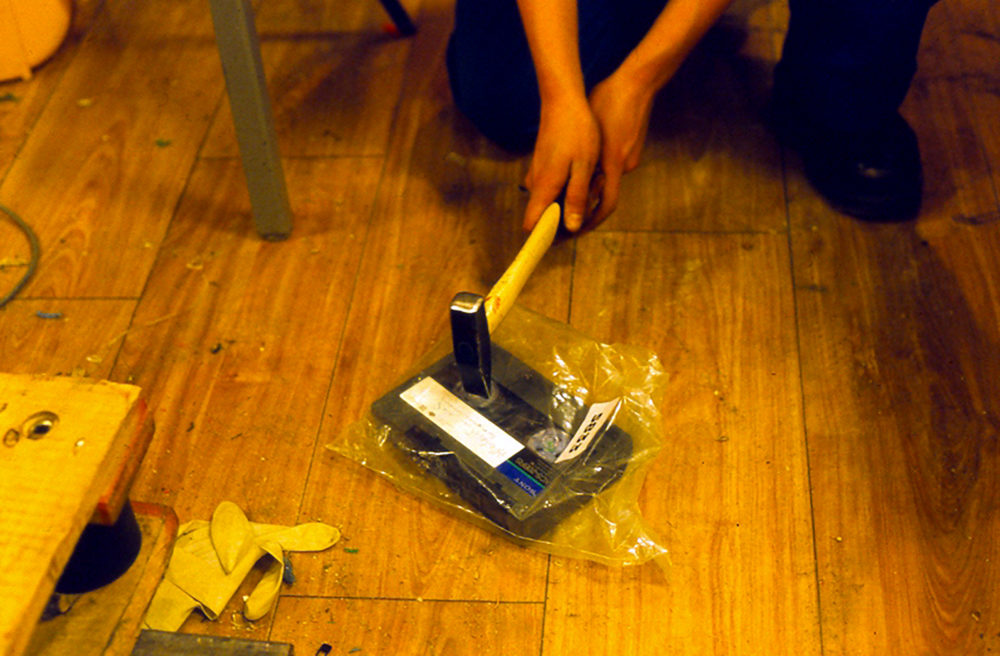 This perceived stance against our consumerist society provoked a media storm ranging from Newsweek profiles to Viz cartoon strips. Priests and psychiatrists offered Landy counselling; members of the public asked him to swap his items for their own; his mother was so distressed she had to be escorted from the building by her son, and gallerists were outraged that he had destroyed the work of other artists, resulting – some say – in his exclusion from the 2002 Turner Prize shortlist.
In an event organised to celebrate the twentieth anniversary of Break Down, Landy talked about the 'joy of destruction' and how he considered the work to be a 'celebration of life', rather than the nihilistic act that some took it to be.2 He liked the idea that through this experiential, methodical and playful process of destruction, Break Down was able to invite people to consider their own experiences of, and responses to, the idea of ownership, material goods, and the ways in which a sense of self is constructed.
At its most basic, the work is a portrait of the artist, but it is also an attempt at self-obliteration (at some point in the proceedings, Landy said: I'm trying to get rid of myself, so it's kind of the ultimate way without actually dispensing of me).3 The fact that Break Down launched Landy's international career, playing a part no doubt in his inclusion in the 2021 Honours list, is an irony that cannot be lost on today's audiences. Landy is very much present, and now part of the British art establishment.
The powerful enduring nature of Break Down is testament to the proposition that obliteration is no way of ensuring that a conversation is bought to an end. Instead, in this instance, like Rachel Whiteread's House (1993), and Jean Tinguely's Homage to New York (1960), the work has gained more traction, establishing a narrative that has retained its power to provoke, confuse and enchant long after the party has ended.