Of the four 'Merzbau' or 'Merz barns' that Kurt Schwitters worked on throughout his life, three were destroyed and the fourth is slowly receding back into the earth. These constructed environments were self-contained worlds made from found objects and personal items. Often referred to as 'walk-in sculptures', they were ever-evolving works of art used by the artist as spaces in which to work and live.
There is no definitive agreement about the derivation of the word 'Merz' but the most generally accepted version of the story goes like this: when Schwitters was amassing material for one of his collages, he found a fragment of newspaper with the end of the word 'Commerz' printed on it. Schwitters adopted the half-word to describe his reappropriation of the detritus of capitalism in order to produce a total work of art, which involved collage, typography, poetry, painting, installation and architecture.
The first Merzbau was created in Schwitters' house in Hanover, Germany (1923–36); it was destroyed by WWII bombs. The second, Hjertøya Schwittershytta (1934–39) was a section of a small stone hut on the island of Hjertoya in Norway where he escaped as a war refugee after the Nazis deemed his work to be 'degenerate'; this was disassembled and removed to museum keeping in 2015. The third, Haus am Bakken (House on the Slope, 1937–40), was also in Norway and was destroyed by fire in the 1950s.
The fourth and last barn, The Elterwater Merz Barn, was built in Cumbria in the north of England where Schwitters moved in 1945, once again to escape Nazis persecution. A landscape gardener he had befriended let him use a traditional dry-stone slate haybarn that had been built a few years previously. It had an earthen floor and no windows and was built on the remains of a magazine for storing gunpowder that had burnt down in 1930.
Schwitters' negligibly small income, earned through local portrait and flower painting commissions, was boosted with a fellowship of $1,000 from the Museum of Modern Art in New York. This allowed him to start work on the barn in 1947. His grief at having to leave the other barns behind him no doubt played a large part in his decision to draw up a fifty year lease agreement with the land owner, ensuring the continued existence of this work beyond his death.
He devised detailed plans for the barn that included a diagonal partition, lowered ceilings, and curved shapes designed to draw the light into the interior spaces. In his mind this geometric substructure would, over time, grow in on itself and adhere to the principles that the artist had lived by since 1919: to create a work 'by selecting, distributing and disforming materials' and by 'constructing new artistic forms from the detritus of past cultures'.1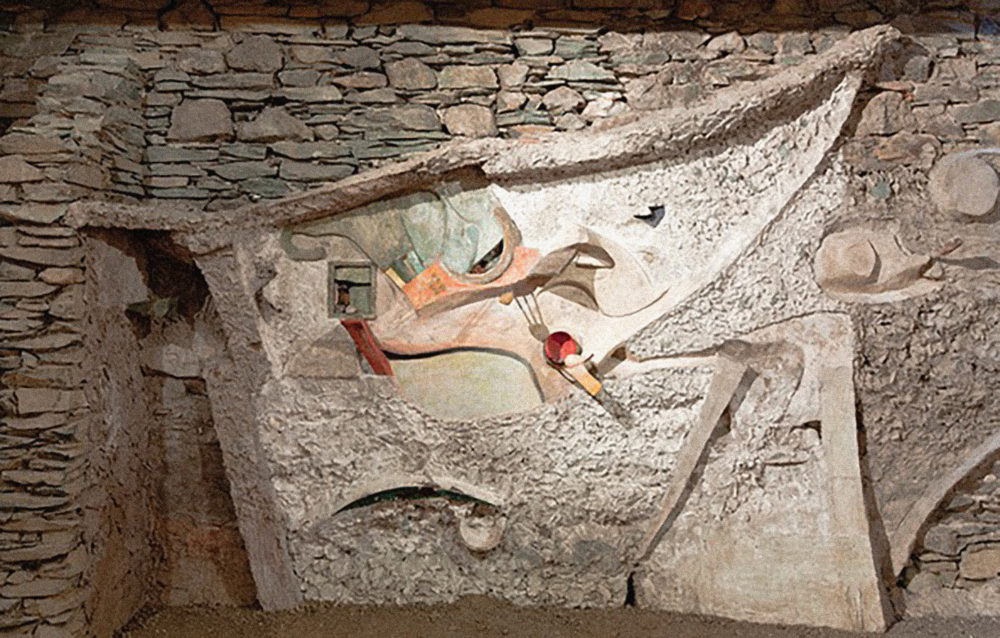 Throughout his 61 years, Schwitters suffered from epilepsy, strokes, asthma, depression and haemorrhages. He died six months after starting work on the Elterwater Barn, leaving it only partially complete. His main achievement was the sculpted wall made up of painted hollows, framed niches, small assemblages and found objects, including a piece of cartwheel and a section of water pipe. In a rescue campaign led by the artist Richard Hamilton and Fine Art student at Newcastle University, Fred Brookes, this wall was removed and installed in Hatton Gallery in Newcastle in 1965. With few original traces of Schwitters' work now remaining in the barn, we might well ask, as writer Jonathan P Watts has, 'where is the Merz Barn? Where it is materially located or where it is performed?'2
A small arts organisation called the Littoral Trust bought the estate in 2006. Various grants, along with the sale of land by the owners, have facilitated a modest programme of refurbishment but the barn was damaged by storms in 2015 and 2016. An appeal to save it led to donations from the great and the good including Zaha Hadid, Damien Hirst, Tacita Dean and Peter Blake, but it wasn't enough. In 2018, the owners put the land up for sale. There are rumours that a Chinese developer is interested in making an offer on the site.