The List is an on-going project that records the thousands of refugees, asylum seekers and undocumented migrants who have died while seeking refuge in Europe since 1993. Turkish artist Banu Cennetoğlu has helped European NGO network UNITED for Intercultural Action distribute the list, which has been reproduced and installed in public sites across the world including a bus stop in Basel, billboards in Amsterdam, a wall in Los Angeles, advertising columns in Berlin, and a public screen on top of Istanbul's Marmara Pera hotel.
In July 2018, The List was installed in Liverpool city centre, as part of the Liverpool Biennial programme of commissions and public realm projects. A few weeks later, on 1 August, it was torn down and speculation ensued about the perpetrators. Many people presumed it was a xenophobic and racist attack; a more benign suggestion was that a council employee had mistaken the work for illegal flyposting (it was very neatly removed). Later, the idea was floated that this was the work of a disgruntled flyposting company who felt their patch was under threat. The Biennial reinstalled the work and released a statement firmly locating the destruction of the list within the heated current debate about the global refugee crisis:
It is timely and important to make The List public during a global refugee crisis. We were dismayed to see it had been removed on Saturday night and would like to know why. The List has been met with critical acclaim and we are doing everything we can to reinstate it.
1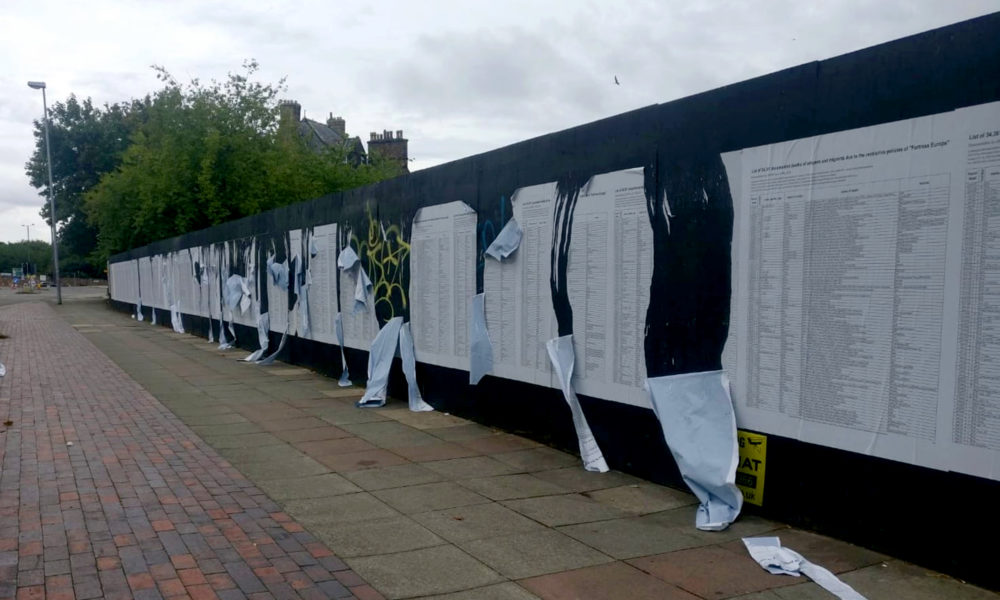 When it was destroyed for a second time on 16 August (in a more haphazard, vicious way), Biennial staff announced that the work would not be re-installed:
Due to repeated damage and removal since The List was installed, Banu Cennetoğlu and Liverpool Biennial have decided to leave it in its current state as a manifestation and reminder of systematic violence exercised against people.
2
Debate ensued about whether this was the right decision; many people took the view that the work should be reinstated each time it was destroyed, in order to make a defiant statement that fascism, intolerance and bigotry was not welcome in the city.
Both the artist and the Liverpool Biennial should stand up against whoever is pulling it down by printing again and again. Why just give up and let em win??
3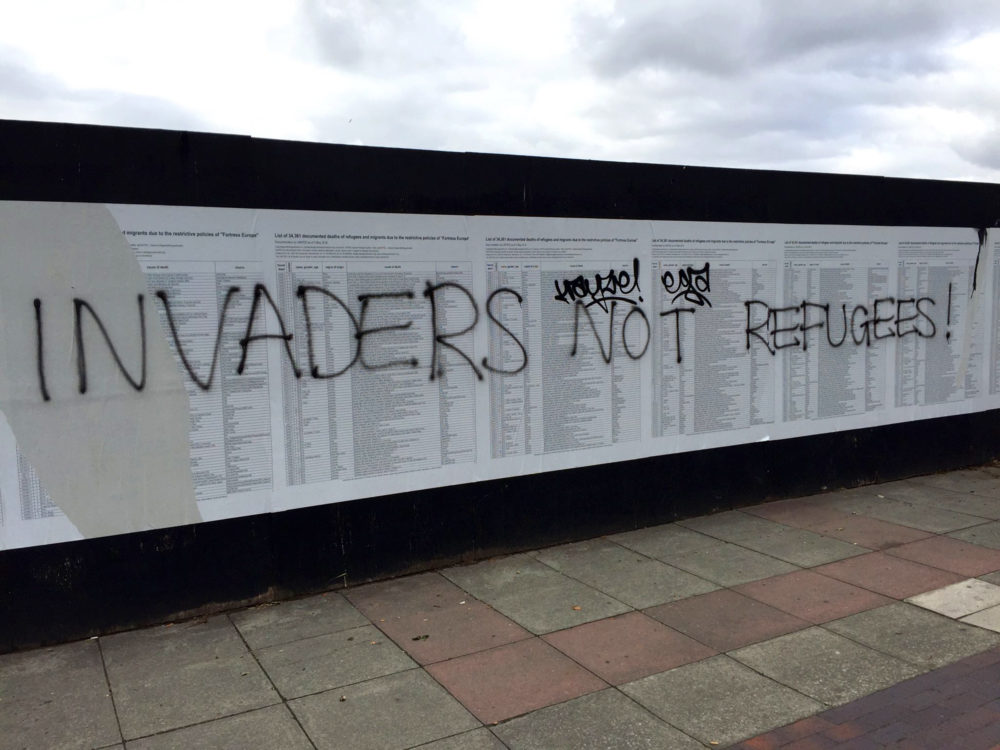 A section of the work was later covered in the more definitively hateful INVADERS NOT REFUGEES.
The List has been displayed in many cities across the world over the past decade. This was the first time it was destroyed. Many took it as a reflection of the febrile atmosphere in the UK caused by Brexit and the atmosphere of fear, hatred and intolerance it created.