When Henry Moore sold Draped Seated Woman to London County Council in 1962 for £7,000 (a third of its market value), his expressed wish was for it to be enjoyed by 'the ordinary man'. Little did he know that it would become the centre of a nation-wide debate about the decimation of the welfare state, asset-stripping by local councils, and the role of art in 21st century life.
The sculpture became known as Old Flo and lived happily on the newly built Stifford Estate in Stepney for thirty-six years until the estate was demolished. In 1998 the sculpture was moved to Yorkshire Sculpture Park for safe-keeping, while a long-term solution was found. In 2012, the Mayor of Tower Hamlets, Lutfur Rahman, put the work up for sale, citing budget cuts and the need to raise funds for public services as a rationale. Christie's was brought on board to facilitate an auction; whispers began to circulate that the sale could reach the £20 million mark. Lawsuits, outrage and demonstrations ensued. Arguments over who owned the sculpture played out in the local and national press. Was it a gift? Whose was it to sell? With the demise of the LCC and Stepney Borough Council, which body was responsible for it?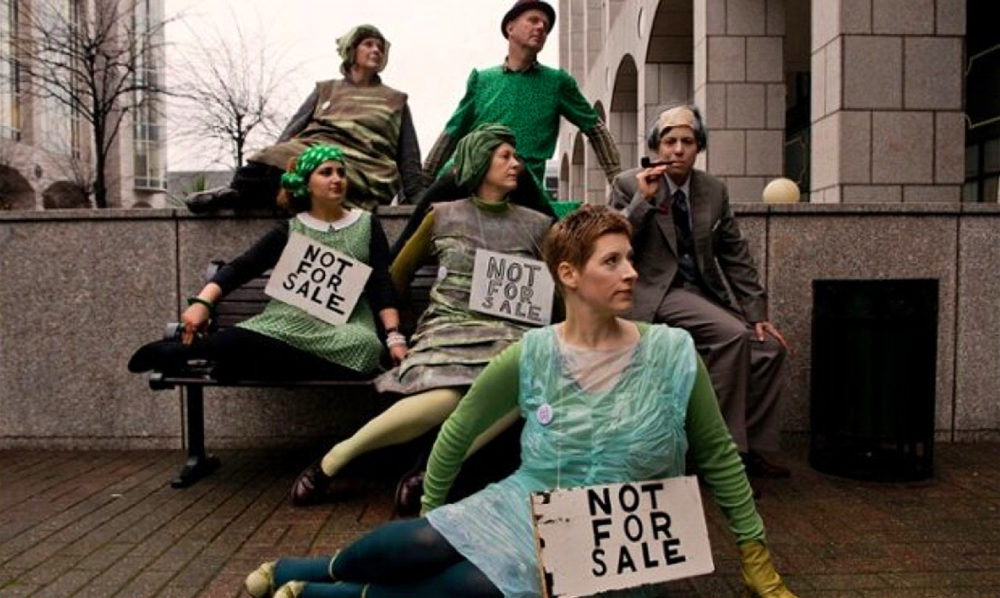 The Museum of London Docklands offered to house Old Flo; Bromley Council claimed ownership; London Mayor Boris Johnson, Bethnal Green & Bow MP Rushanara Ali and film director Danny Boyle all spoke out against the sale on the grounds that selling off cultural assets was no solution to budget gaps. On 12 November, artist Bob & Roberta Smith staged a flash-mob protest with a group of fellow artists outside Tower Hamlets Town Hall. Wearing dresses that echoed the verdigris green that had developed on Old Flo, forty protestors brandished hand-painted signs that read 'NOT FOR SALE'. Bob & Roberta Smith made a statement to the local press:
Hitler destroyed the East End, Henry Moore, with others, rebuilt it and now a council that seems ignorant of the area's less recent past is selling off its principal monument to peace. For me it is like smashing up a war memorial. The vision and foresight of previous generations should not be dismantled and sold off to cover Town Hall ineptitud
e
1
The Christie's auction was quietly pulled and nothing happened for a while until the Mayor of Tower Hamlets was found guilty of electoral fraud and removed from public office (the Election Court officially reported in 2015 that Rahman was 'personally guilty of corrupt and illegal practices'). Tower Hamlet's intention to sell Old Flo was shelved.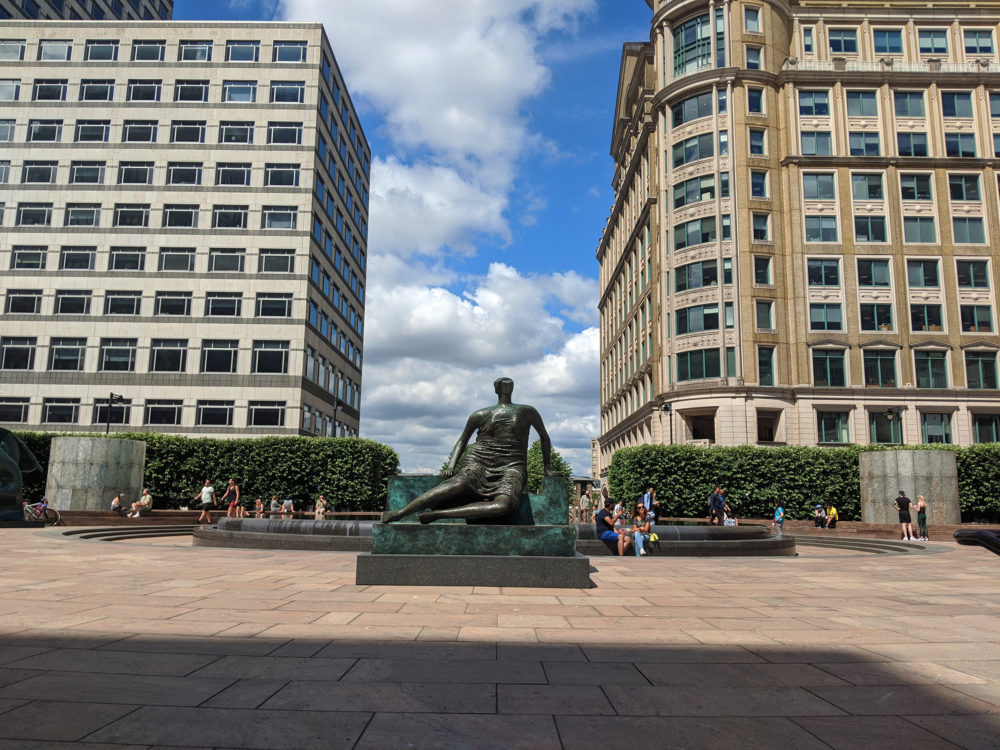 In 2017 the Henry Moore Foundation, Yorkshire Sculpture Park, and Tower Hamlets Council reached an agreement: Old Flo was to be brought back to east London from Yorkshire and temporarily installed in Cabot Place, Canary Wharf. This privately owned land in the heart of corporate London is a far cry from the publicly-funded utopian ideals of post-war Britain. The move became symbolic of 21st century city life: the privatisation and commodification of pubic space, increased surveillance, and constriction of civic rights.
Plans are afoot to relocate the sculpture to the public area in front of Tower Hamlets Town Hall in 2022.