In 1977 Michael Asher was invited to make a work for the exhibition Skulptur Ausstellung in Münster (now known as Skulptur Projekte Münster), organised by the Westfälisches Landesmuseum für Kunst und Kulturgeschichte.
Ahser's proposal consisted of a rented, four-metre-long, 1970s Eriba Familia camping trailer which would be parked at different locations in and around Münster during each of the nineteen weeks of the exhibition. The locations were deliberately mundane, banal even: a bank of trees, a housing project, an alleyway, a parking lot. The curtains were closed, the door was locked. There was no signage to announce the caravan as a work of art. To any passer-by, the caravan was just a caravan.
The endeavour was repeated for Skuptur Projekte Münster 1987, 1997 and 2007. Asher rented the same type of caravan for each of these iterations, parking it in the same locations, employing the same sequence. Urban development and changes to the city streets meant that a bit of tweaking had to be done over the decades. The project reflected the evolution of the city.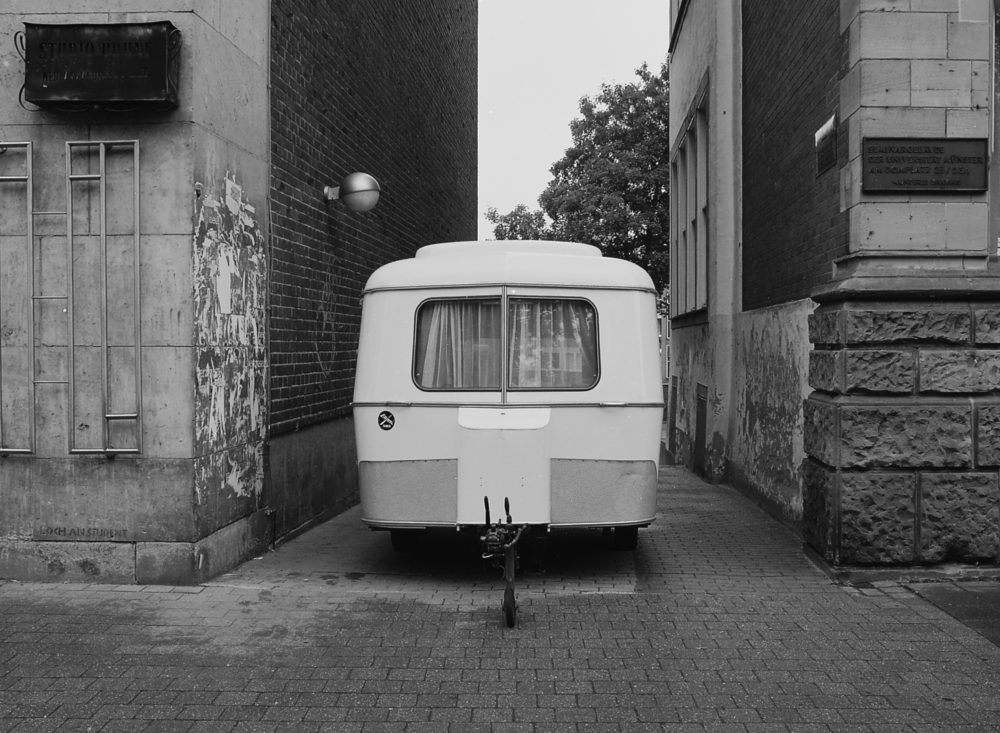 By the time the 2007 Skulptur Projekte Münster came around, the 1970s caravan was firmly established within the eyes of locals and art visitors as an iconic expression of the programme as a whole. It was also no longer inconspicuous – its outdated design pointed to another era, and alluded to the large number of émigrés who moved to the city after the fall of the Berlin Wall.
One morning in July 2007 a young artist hitched the ambulatory sculpture to the back of their car and drove it from the city. It was found several days later abandoned in a wood. When the police contacted Skulptur Projekte curator Kasper König to discuss the theft, they asked about the value of the artwork. König explained that the caravan was 'not art when it was not parked in one of its designated spots'. In other words, 'the caravan itself had no artistic value. In fact, the trailer had practically no value at all. Old caravans like these don't go for very much, and besides, it was a rental, and insured. It could not even be considered an original, since it was not the same one used in 1977.'1